Instead of telling you about a single tutorial today, I'm going to tell you about a magazine that you can get for free that will provide you a regular source of information.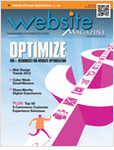 Website Magazine caters to those in the business of running a Web site. I've been receiving it since its inception and there are always a few articles of interest to me. Many of you have probably created a graphic for a Web site and it is quite possible that you run the site for your business. Now you have a free resource that can help you get the most out of your site.
The free subscriptions offered are what is called a "qualified subscription". This means you'll need to answer a few questions about your business and your involvement in purchasing. Basically they want to be able to tell their advertisers that the readers are interested in what the advertisers are selling. Go ahead and request your free subscription today!