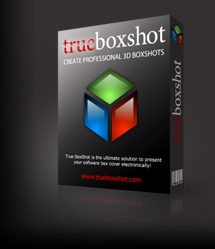 There is no doubt you've seen cool three-dimensional product shots on Web sites or in printed catalogs. You've probably wondered how they were created. Today's pick is True BoxShot and it makes the process incredibly easy. The box shot shown at right is a product of the software. In reality there is no box as it is downloadable software.
So that you can go through the process yourself, download a trial version of the standalone product, the Photoshop plug-in or the bundle of the two products.
When you open it up, you have the choice of several different "3D" products you can create. They include a box shot, a CD, a DVD case, a screenshot, a member card (credit card), a photo or a book. Then you simply need to load the graphics for each size of the product. In the example here, you would only need the front and one side of the box since those are the only panels visible. Don't worry, you are simply providing a flat rectangle view of each side. If you have designed the product in CorelDRAW (or Corel PHOTO-PAINT or Adobe Illustrator or Adobe Photoshop), you'll just export each panel as a PNG file.
Within seconds you can see a quick preview of how it looks. For me, the learning curve was about five minutes before I had a preview of my first "box". You can choose a background color or even a bitmap background. Do you want the box to reflect on the floor or to have a shadow? Either of those effects is a simple click away. Want to rotate the box in 3D space? Again, not a problem. When done, you simply render the final bitmap at the size of your choice. Keep in mind that the trial version will limit the size of the rendered bitmap and it will lay some text over the graphic indicating it was created with a trial version. Beyond that, the trial is fully functional. You can even save the graphic with a transparent graphic so that you can drop it over the bitmap of your choice later.
Get more information on the standalone version, Photoshop plug-in or bundle of the two products by following the links provided. If you need to create this type of graphic, the prices of each of the products is very fair. The standalone version sells for $44.99, the Photoshop plug-in sells for $39.99 and the bundle of the two products sells for $64.98.
I went for the standalone version as it doesn't rely on any other software. Just import bitmaps of each of the box panels and output a bitmap of the finished product. The output is very impressive and yet the product is very easy to use. Anyone who needs to create box shots would find this money well spent!