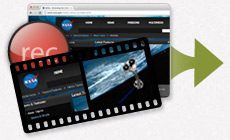 Sometimes the timing just seems perfect when an important tool gets a major upgrade just before I need to put the tool to heavy use. That is exactly the case with the release of Camtasia Studio 8. I've been using Camtasia for nearly 15 years to record videos of my computer screen and process them for inclusion in my CorelDRAW Training DVDs. Soon I will begin recording videos for CorelDRAW X6 Unleashed and I'm excited to have the new Camtasia Studio 8 as my screen recording tool.
In looking through the new features, I'm not sure that I will use many of them. Yet there are also improvements under the hood that will no doubt improve my recordings and allow them to process much quicker. Of course I may find more of those features useful as they turn Camtasia into more of a full-featured video editor. That could mean I would have less use for Corel Video Studio X4 which means I don't have to face the learning curve of yet another piece of software.
If you have the need to record videos of your screen, you certainly can't beat Camtasia. There is a 30-day free trial available so you can make sure it is the right tool for you.