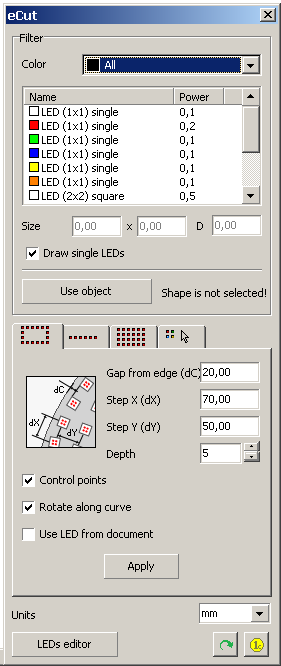 It is easy for me to tell you that a product does amazing things, but I'm sure you want to know what real users think about a product. Recently we saw more traffic on our site going to the page for eCut and discovered the source of the traffic was a post on the Sawmill Creek forums. I've provided a link if you want to read the original post and the replies.
For those who don't want to read the whole post, I'll include about the first half of the post below.
***
I have read somewhere on this forum that there isn't a way to do the following in corel…
Measure the total vector/cut length in corel, for accurate pricing of vector work.
Measure the total area for accurate raster pricing.
Make a single line font so that you can use vectors to quickly laser text (Neon function in ecut).
e-cut does all of this and HEAPS more, I am amazed at the just how many features are in this software for the price.
You can also…
Do nesting of objects
Calculate cutting times
Create weed lines for vinyl cutters
Search for duplicate objects
Create sets of lines, grids.
Create quick isometrics.
***
It is great to know that a customer is so happy with a product we provide on our site. For me, it is a great tool for anyone who needs to cut from CorelDRAW as that is the origin of the "cut" part of the name. Yet there are so many more features that are packed into this powerful add-on as the customer mentioned.
If you want to see a comprehensive list of the features, please look at the product page. Just be prepared as it will take a while for you to go over the entire list. Not convinced it will work for you? No problem as we've now added the ability to download a free trial that will do everything for a short time. After you've looked over all the features and given eCut a try, I think you'll find it a valuable addition to your toolkit.