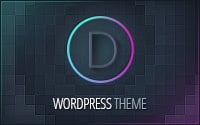 Building a great Web site in a minimal amount of time is always the goal. I become a bigger fan of using WordPress every day that I use it and it is important to Choose the Perfect WordPress Theme. One of my favorite themes is Divi because it is both powerful and extremely customizable.
Divi is just one of many themes and plugins that are included in an Elegant Themes subscription. I've written about two of the plugins in Building Mail List Signup Forms With Bloom WordPress Plugin and Monarch Plugin Makes Content Sharing Simple. With those two plugins and Divi, you have a lot of value in the subscription and there is much more.
A new version of Divi is coming this fall and the folks at Elegant Themes have promoted the new version with 100 days of blog posts filled with value. Some of the posts explain how to do something really cool with Divi while others provide downloads of some pre-built layouts that can cut down development time of a Web site. Even if you choose not to purchase a subscription, I would highly recommend the blog because of all the great posts it delivers. Subscribing to the blog is free!
I've already used Divi on several Web sites, including sites that were originally built with other themes. When I don't use Divi as the theme, I'll often use the Divi Builder plugin (also part of a subscription) which gives me many of the same features as the Divi theme. One new site even used some of the pre-built layouts from a recent blog post. I'll still customize the layout heavily, but the pre-built option made the process a lot quicker. This saved me time and the client money!